#LIFEATLITTLEDOT: WRITING THE FIRST LITTLE DOT BOOK
Today, we're speaking to Little Dot Studios' Michael Leader, Senior Producer, and Jake Cunningham, Podcast Producer, who are releasing their first book: Ghibliotheque: The Unofficial Guide to the Movies of Studio Ghibli that takes readers through the journey of the iconic and stunning Japanese films.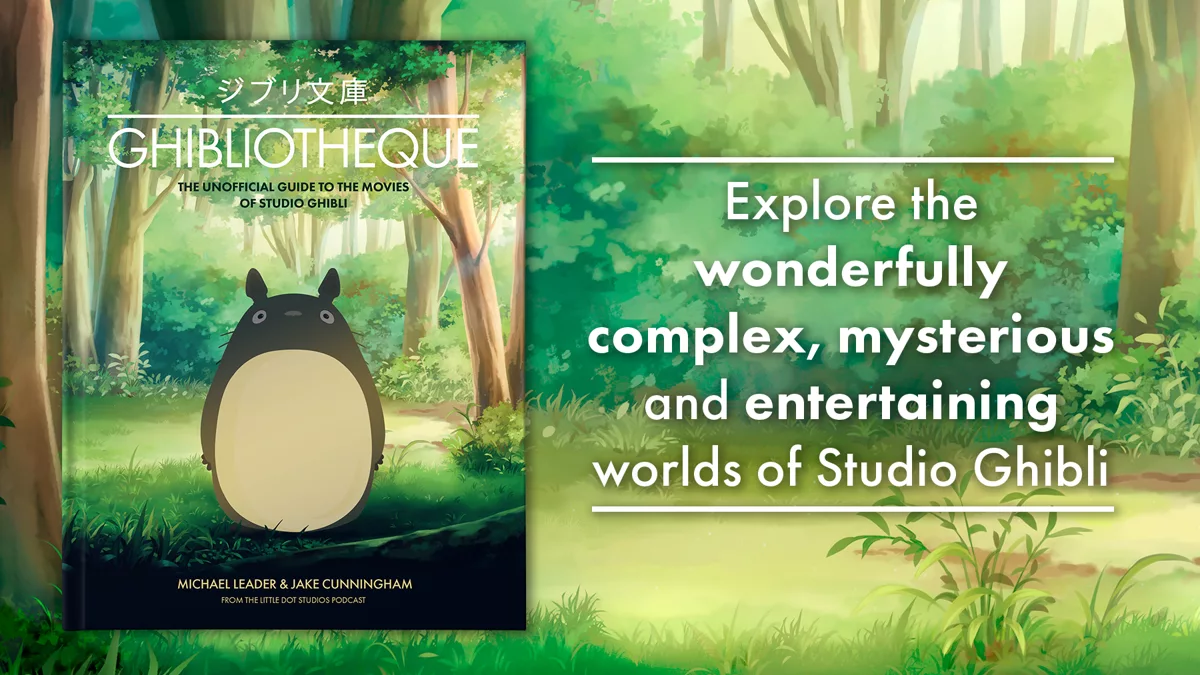 Hi both - thanks for taking the time to chat with me! To dive right in, the book is due to launch in September - can you tell us a bit more about the journey that you've been on with it?

JAKE: It all started around three years ago. Michael's a great fan of Studio Ghibli and at the time he was working on a project for Film4 who were gearing up to play all of the films across the summer. When I revealed that I hadn't seen the films, he was heartbroken. But he turned that heartbreak into a great project, which was becoming a lecturer and teaching me about the films, which turned into Ghibliotheque: A Podcast about Studio Ghibli. 
MICHAEL: As much as this was our own project, Film4 gave us the opportunity to tie it into their Studio Ghibli series and promote it via their social channels. 
JAKE: The first series was just six episodes, where we talked about their biggest films, like Spirited Away and My Neighbour Totoro. But there was such a strong reception towards them that we couldn't stop there!
MICHAEL: And, when we eventually covered off all of the films, we began to spin out in various directions editorially. We now interview Oscar-winning filmmakers, animators, critics, and writers. At the end of 2019, we travelled out to Japan with Harold McShiel and Steph Watts [co-producers on the podcast] to visit the Studio Ghibli offices and their Museum. We interviewed some of the animators, which was something of a dream come true.
We also did a live podcast with the British Film Institute, collaborated with the British Museum at a really big exhibition on manga, and hopped in the metaphorical campervan to Latitude Festival and Green Man and hosted screenings in our wellies which was very fun!
So Jake, are you a fan of these films now?
JAKE: Yes, I've come to appreciate them as works of art and really adore them, but I've also become  emotionally attached to them, as over the last three years, so much of my current professional and creative output has been tied to them. 
Yes, you must be so passionate about them to have written a book about them! 
JAKE: It wasn't easy, but when you've spent this long talking about and living with them, it felt like a natural evolution for us to kind of put these thoughts from the podcast down on paper, and have the opportunity to actually think about what we do love about them, and lock that in place. 
MICHAEL: And the format of the podcast lends itself quite well to being put into print. On the podcast, we had this two pronged approach where I'd have a chunk of the time to go into the historical background, the context, the people making the film, how it's released, etc. And then we throw it to Jake, who knows films -  he just hasn't seen these. So he's bringing his own angle - often referring to a lot of Steven Spielberg!
What was it like actually writing it together? Especially while being remote?
JAKE: We approached it in a really smart way, with set periods where we knew we were both going to be writing at the same time. Even though we were at opposite ends of London, it was comforting to know that Michael and I were in the same headspace and able to bounce ideas off each other.
MICHAEL: Once this became a Little Dot project, based on the first Little Dot podcast, Dan Jones [CEO] and Annie Hughes [former Production Manager] really got behind it. And we're so grateful for this - it really helped us block out time for writing, and disappear into what we called the 'Tree House' aka Jake's kitchen and my spare room! 
What's been your key highlight from this incredible journey?
JAKE: Before I went to university, I sold car insurance and was pretty much spending all of my money on festival tickets. I was one of those people that would keep the wristbands on and I hit a point where I had 17 going halfway up my arm. My girlfriend hated it! 
One of those 17 festivals was Latitude, so 10 years later, going there to present on-stage, was something that 16-year old Jake would probably find pretty cool. I mean, he would probably find it cooler if he was in a band rather than doing a live podcast, but we were still on the bill with Stereophonics and Lana Del Ray. 
MICHAEL: For me, the big one for me was going to Japan. Japan has been central to so many of my obsessions, interests and passions since I was a kid, from Nintendo and anime, to the weird Japanese synth music of Yellow Magic Orchestra and Ryuichi Sakamoto.
With Studio Ghibli, people love all the big films by Hayao Miyazaki, but my favorite is Whisper of the Heart. It's a coming of age, young person's romance film from the mid 90s. It's a beautiful film about a young girl who wants to write song lyrics and a young boy who wants to carve his own violins. It's set in a town that they describe as boring, where nothing ever happens.
But the animators have made this boring suburban town look gorgeous, and we actually visited it in West Tokyo. You can walk up the side of this hill into this little conurbation, and find some locations that they put into the film, including a shrine. Which of course, was an excellent photo opportunity. 
Studio Ghibli's reputation worldwide is gold standard. Filmmakers love them. They are perfect for nerds, geeks and anime fanatics. But also families too. Kids will watch their films and parents may look around the doorframe and ask "What are you watching?", and get into it too, and find themselves down the rabbithole. 
And that's what we love doing, sharing the joy and insight of watching these films.
Looking to join our creative and production team? Check out  our open roles here.